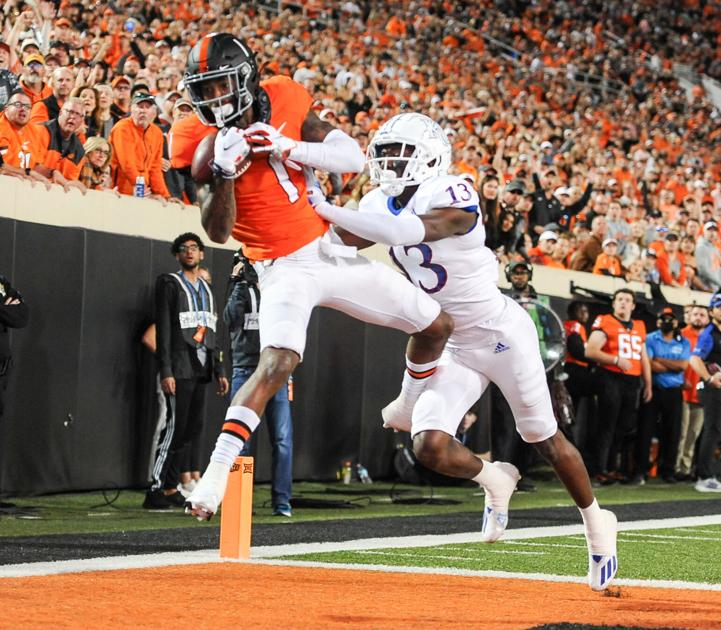 No. 15 Cowboys leave tight games to strangle Kansas on Homecoming weekend | OSU Sports
Five days before the Oklahoma State soccer team will host Kansas for reunion weekend, coach Mike Gundy said he's planning a game in the fourth quarter.
Despite KU's typical struggles against Big 12 Conference opponents, Gundy's prediction was not exaggerated, given that the Jayhawks had turned from their usual pattern to surprise the nation with near-disruption of the WHERE. The Cowboys got used to making their way through dramatic nail bites, but they finally got a chance to relax at Boone Pickens Stadium on Saturday, exceeding Gundy's expectations.
OSU starters looked forward to the second half from the sideline as the Cowboys defeated KU 55-3, returning to victory after recording their first loss of the season against Iowa State. With a comfortable lead, the No. 15 OSU started making substitutions before half-time.
"It was unusual for us to start knocking guys out in the second quarter, and it was a little different," said coach Mike Gundy. "We've had a lot of games like this here, but not recently. "
As the pieces fell into place on offense, OSU (7-1 overall, 4-1 Big 12) maintained their characteristic level of defensive tenacity and gave the Jayhawks no chance of coming away with a victory.
The Cowboys took a 38-0 halftime lead, their biggest first-half advantage since leading Louisiana 44-0 in 2012. The 52-point win gave OSU his biggest margin of victory since losing southeast Louisiana by 54 points in 2016.
Starting quarterback Spencer Sanders and substitute Shane Illingworth each pitched for two touchdowns, and by the end of the game third-string signalman Ethan Bullock was on the pitch.
As the Cowboys parted ways with their recurring narrative of close games, KU (1-7, 0-5) looked like a team shell that nearly knocked out the Sooners. The Jayhawks had 10 points in the first half against OU, but when they faced OSU a weekend later, they only managed 10 passing yards in the first half.
The OSU defense continually pissed off KU, refusing to allow a first down until backup quarterback Miles Kendrick ran 11 yards with 9:16 left in the third quarter. The Jayhawks finished that drive with a field goal to avoid a shutout, but it was the most they could do to save themselves from the relentless Cowboys.
OSU quickly took the lead, forcing three-and-outs on KU's first two offensive practices and taking a 7-0 lead with the Sanders 4-yard goalie. The Cowboys defense settled into a routine of pushing the Jayhawks off the field as quickly as possible, returning the ball to OSU with interceptions from safeties Jason Taylor II and Kolby Harvell-Peel.
The two picks in the first quarter led to points. Taylor's interception put the Cowboys on KU's 37-yard line, creating a practice that ended with senior kicker Tanner Brown's 49-yard field goal. Then with 27 seconds remaining in the first quarter, Sanders connected with second-year receiver Brennan Presley for a 4-yard touchdown, extending OSU's lead to 17-0 after Harvell-Peel's pick.
"It feels good, I think for everyone, when you have a defense that can prevent big plays from the start, get out of the field on the third down, get turnovers," said defensive coordinator Jim Knowles. "It just gives everyone confidence, no matter what else is going on."
And this time almost everything else worked in OSU's favor as well. In the second quarter, the Cowboys kept rolling and put a creative twist on a 14-yard touchdown play, executing a backhand for Presley while Sanders blocked for him and slammed into a defenseman with his throwing shoulder.
Sanders found several ways to impact the offense. He threw for 157 yards, completing 12 of his 19 passing attempts, and also compiled 53 rushing yards, including 44 in the first quarter alone.
After building a stable base for the Cowboys, Sanders left the game with 1:10 remaining until halftime, sending Illingworth to the quarterback. Illingworth went 6 for 10 with 70 yards, and he led a solid offense from his second string counterparts, who seamlessly continued what the first string players had started.
"Just as you saw these young men come in, you could just see a smile light up on their faces," Sanders said. "… I live for little things like that, and it's great, especially to build the confidence of these young people." "
Freshman John Paul Richardson scored his first career touchdown. Running back Jaden Nixon amassed 53 yards on 11 carries in his OSU debut. Orange-clad fans scattered throughout the stadium continued to gain reasons to celebrate – during a third-quarter timeout, there was even a successful marriage proposal in the end zone near the video board.
The match couldn't end without another strong defensive moment. In the fourth quarter, red shirt rookie Nick Session knocked out Kendrick in the third and 11th, creating an opportunity for Alex Hale to hit the 26-yard basket that capped OSU's victory. After Session secured the ball and returned it 27 yards, rapper Kendrick Lamar's lines "Sit down, be humble" echoed over the stadium's speakers.
The one-win Jayhawks may not need the humility, but it was a deplorable loss after their sudden spark against OU. Their offensive effectiveness had dissolved and they could not contain an OSU offense with a plethora of scoring targets.
Next, the Cowboys must figure out how to incorporate their winning recipe into their roadside clash against West Virginia.
"That's all the deal, if you could bottle it you would open it and do it again next week," Gundy said. "I don't know what all the answers were. We will rely on their focus and discipline, and we will rely on their willingness to train hard during the week.