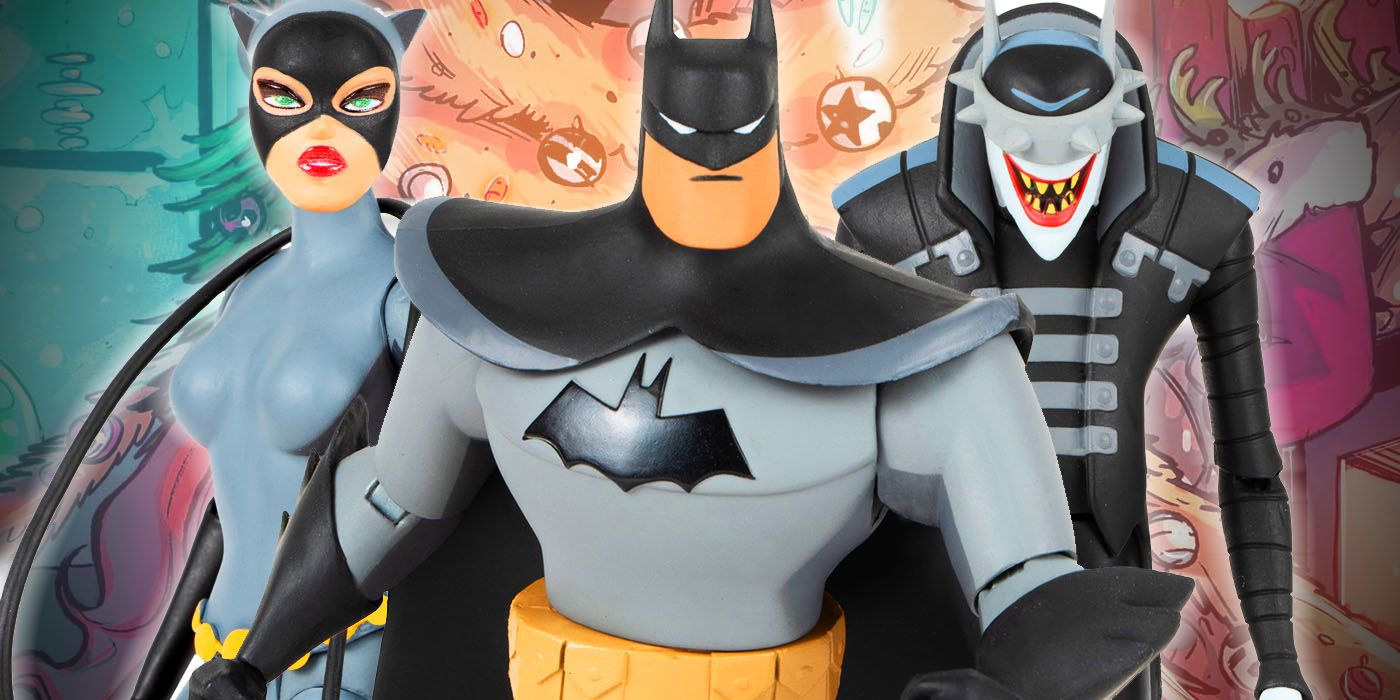 The adventures continue with new Batman, Catwoman and Batman Who Laughs figures
A new McFarlane toy set includes Batman and Catwoman in their animated series looks, plus a matching version of Batman Who Laughs.
McFarlane Toys is producing new versions of Batman and Catwoman in their fan-favorite designs from Batman: The Animated Series and its sequel in comics, Batman: The Adventures Continue – and Gotham's two vigilantes are joined by the horrific Batman Who Laughs.
The 1:12 scale figures, currently available for pre-order on the McFarlane Toys website, feature a cel-shaded paint deco look reminiscent of Bruce Timm's creations from the show, and range in size from five six inches high. Batman is dressed in the black and gray outfit he wore in 1997 The New Adventures of Batmansometimes considered the final season of the Emmy-winning film Batman: The Animated Series. Catwoman sports the classic blonde hair and yellow sash design she had in the cartoon franchise's first aired episode in 1992, "The Cat and the Claw." The Batman Who Laughs, on the other hand, never appeared in animation and features a design inspired by Bruce Timm's simplified, blocky art style.
RELATED: Batman Action Figure Teases Movie's Use of Iconic Kevin Conroy Line
The three digits are grouped under the Batman: The Adventures Continue banner. The comic, written by Paul Dini and Alan Burnett — both producers on Batman: The Animated Series — began publication in April 2020 and has so far encompassed 24 issues and a two-"season" holiday special.
RELATED: The Entire DC Multiverse Is Fed Up With The Batman Who Laughs – Here's Why
The series picks up right after The New Adventures of Batman has come to an end, filling in the gaps in the DC Animated Universe timeline before the debut of the futuristic Neo-Gotham and Terry McGinnis in batman beyond. A number of characters who have never appeared in the cartoon have made their comic book debut so far, including Jason Todd, Deathstroke, and Court of Owls.
There is currently no indication of whether or not Batman Who Laughs will appear in Batman: The Adventures Continue. The creepy villain, created by Scott Snyder and Greg Capullo, first appeared in DC's Metal event of 2017 and 2018 as a twisted fusion of Batman and Earth-22's Joker. The Batman Who Laughs Later met his end in Metals followed, Death Metal. Before his death, however, he managed to usurp Perpetua – the architect of the DC Multiverse – and became a thorn in the side of all superheroes across the cosmos. More recently, members of the Justice League Incarnate crossing the multiverse went head-to-head against a gendered version of the character, dubbed the Batwoman Who Laughs.
McFarlane Toys' Batman, Catwoman, and Batman Who Laughs are all available to pre-order now, with each figure costing $29.99.
KEEP READING: Batman Confirmed His Animated Series' Best Trick Is Still His Greatest "Power"
Source: McFarlane Toys (1, 2, 3)
Star Wars reveals why Jedi, Sith and bounty hunters kill
About the Author