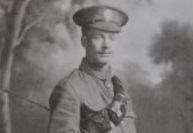 The adventures of the sapper in the Far East during the Great War recalled by his granddaughter Aviemore
A writer from Aviemore helped provide insight into life in the Far East for a sapper in World War I.
Wendy Grigor collected the book from memoirs kept by her grandfather James P McIntosh.
He was born in Aberdeen's Innes Street on August 17, 1887 and enlisted in 1916 shortly after the arrival of his first child.
After his weeks of training, he sailed to fight on the front lines with the Royal Engineers in Mesopotamia – an ancient region now home to parts of modern day Iraq, Kuwait, Turkey and Syria – the October 8 of the same year.
Ms Grigor said she was inspired to compile her grandfather's notes to keep alive a regular soldier's account of life and travels during the Great War.
She said: "His memoirs and notes give brief accounts of some of the characters he encountered during this time and descriptions of the places he visited along the way.
"His travel and active duty experiences all come from a diary he kept at that time which gives insight into what life would have been like at the time.
"During his service, he went on leave – this is leave soldiers were entitled to if they had completed more than 18 months of overseas service.
"He took the opportunity to visit a close friend at Cawnpore in India and took notes of that visit. He also got a weekend off when he visited the ruins of Babylon.
"Babylon today has changed dramatically with Saddam Hussein's construction in this area."
Topics covered by the sapper include temperance and rum of which he writes: "Although I am practically a tea-total, I have never refused my ration of rum…
"I remember when we were lying in Hit we had no tents and very little bed clothes and as it was raining very heavily for hours I was very cold and we had every chance of to contract a disease.
"I was given a dose of rum and I took my own and fell asleep and although everything was wet and I lay in the mud I slept quite well until morning and that was no worse."
The Code of Khummurabi, The Tower of Babel, and The Unexpected all come for his observations.
Ms Grigor said: "The final chapter of my book gives a brief description of my grandfather's eldest son, Stanley, who was awarded the MBE for distinguished service in the fire and rescue services.
"Unfortunately, he later lost his life in the line of duty."
Sapper McIntosh survived the Great War
• Ms. Grigor will be at Caberfeidh Horizons in Kingussie on Saturday November 12 from 10:30 a.m. to 1 p.m. for an informal meeting, welcome and discussion on the "Chronicles of the East during the Great War".
The book is available for sale at the Caberfeidh Horizons Kingussie Bookstore; The Bookmark in Grantown, Logie Steading Bookshop and Picaresque Books & Galerie in Dingwall and can also be ordered online from Ms Grigor at [email protected]
---
Do you want to react to this article ? If yes, click here to submit your thoughts and they may be published in print.
---