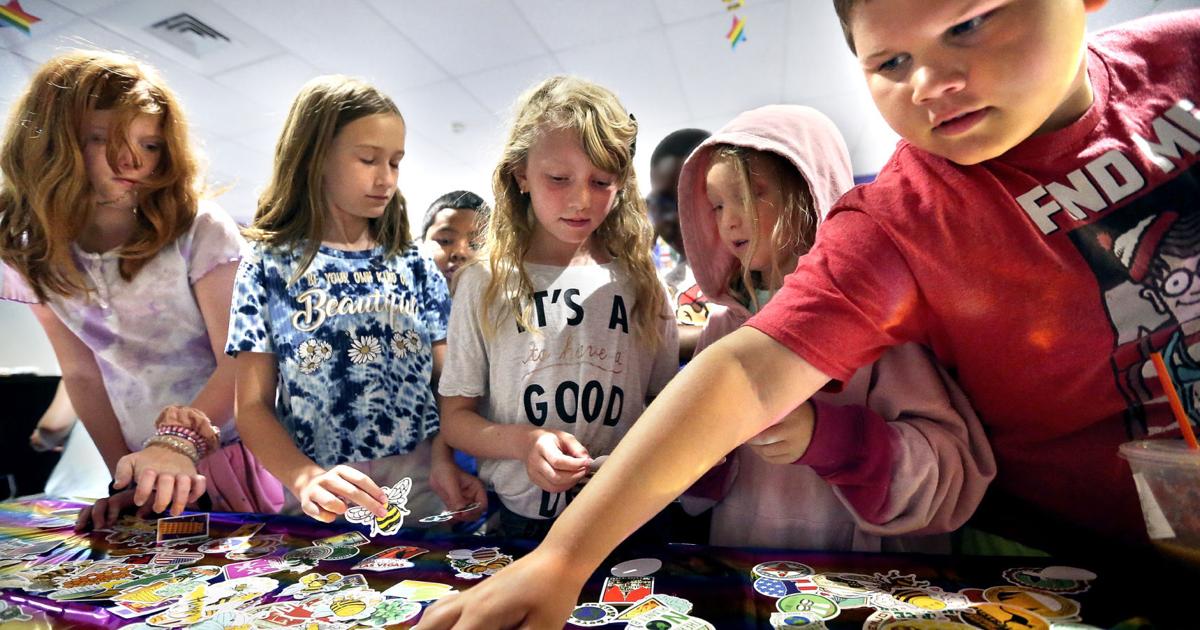 YDC's Adventures Beyond camp, a "truly magical" experience | Winchester star
WINCHESTER – Friday marked the conclusion of the Youth Development Center's Adventures Beyond program, a six-week summer camp that promoted inclusion, kindness and confidence for children, teens and adults with special needs.
Maribeth Stotler-Watkins, program coordinator for the non-profit Youth Development Center (YDC) at 3 Battaile Drive in Winchester, said Adventures Beyond was designed to "create an inclusive environment for all children, regardless of their disability…so they can feel welcome, loved, appreciated, valued and heard Our children have really, really blossomed over the past few weeks.
While Adventures Beyond was aimed at people with intellectual, developmental or physical challenges, it was open to everyone.
"We had an average of about 75 percent disabled kids, but that didn't really resonate with our neurotypical campers," Stotler-Watkins said. "They just saw them as their peers and interacted with them as usual. … It was really magical."
Stotler-Watkins oversaw the summer camp with the help of seven counselors — or, as she called them, coaches.
"Our coaches are really fantastic," she said. "We have three middle schoolers, we have three high schoolers, we have someone who works here [at the YDC] during the day. They each brought different perspectives to our children."
Before offering campers a final trip to the Jim Barnett Park outdoor pool on Friday afternoon, Stotler-Watkins stood in the center of a YDC room and asked the 15 or so people in attendance what they had learned over the summer. They responded that people should always accept others regardless of race, disability, religious belief, sexual orientation, gender, age, size, or culture.
"You are right!" Stotler-Watkins responded.
One of the campers, Dan, 21, said he really enjoyed "seeing the kids, having fun [and] play ball" at Adventures Beyond.
Across from Dan was another 21-year-old, Hunter, who said he liked "painting, things like that. It was really fun."
Six-year-old Atticus was putting stickers in a small notebook. Beside him was Tad, 21, who explained the purpose of the book.
"You get everyone to sign the book, so when you're sad you can watch and remember your friends," Tad said.
"Everyone at this table is my friend," 11-year-old Jace said with a smile. "I've only been here a few weeks, but I've made a lot of friends."
Josh, 10, said his favorite part of Adventures Beyond was "going to the pool and having fun with all my friends. Meeting new people has been really fun."
"I'm gonna miss all my friends, I'm gonna miss all the activities and having fun, hanging out," said Alicia, who is "almost 11".
Benjamin, six, and his brother Ryan, 8, said they would also miss Adventures Beyond. When Ryan – whose goal in life is to become "a wealthy genius" – was asked about his favorite part of the six-week program, he replied: "Everything".
Now that Adventures Beyond is complete, the younger campers are preparing to return to school this month while the older ones will resume their daily lives. Dan, for example, returns to work at Shenandoah University, where he washes dishes in the dining hall.
Stotler-Watkins fought back tears on Friday saying how proud she was of all the campers who attended one or more weeks of Adventures Beyond.
"It was really wonderful," she said. "I hope next year we can capitalize on this momentum and expand even further to reach many more children."